Image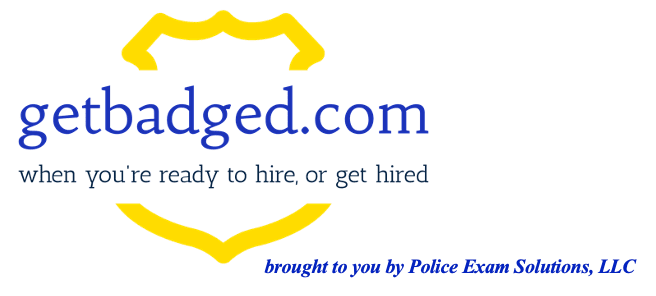 ---
Brought to you by Police Exam Solutions, getbadged.com is a community of professionals looking to hire, or get hired, for the role of Police Officer.
Introducing getbadged.com, the cutting-edge police recruitment platform designed to cater to the evolving needs of both police departments and aspiring candidates in the 21st century. getbadged.com revolutionizes the traditional approach to police recruitment by offering a unique and unparalleled experience for both departments and candidates. Our platform combines advanced technology and intuitive features to streamline the hiring process, making it more efficient, transparent, and accessible than ever before. Join us on this exciting journey as we reshape police recruitment for the 21st century. Become a getbadged member today and experience the future of police hiring.
Efficient & Centralized Recruitment
Sophisticated Infrastructure
User-Friendly Navigation
Unified Hiring Process
Equitable & Open Application & Hiring Process
All Inclusive Hiring Platform
Cost Effective for Applicants & Hiring Departments
Interactive & Engaging Platform for Departments & Candidates
---
For Departments
For police departments, getbadged.com provides a centralized hub where they can effortlessly manage every aspect of their recruitment efforts. From posting openings and conducting applicant screenings to tracking candidate progress, our platform empowers departments to optimize their recruitment strategy and find the most qualified individuals to join their ranks.
For Candidates
For candidates aspiring to become police officers, getbadged.com offers a user-friendly interface that simplifies the application process and provides valuable resources for preparation. With comprehensive job listings, personalized profiles, and tools to enhance their skills and qualifications, candidates can showcase their potential and stand out in a competitive field.